BitRaser for File V 2.0
À propos du produit
Advanced file erasure software for laptops, desktops, and servers
Permanently erases files, folders, internet history, and application traces
Securely erases data from PCs, laptops, servers, & other external storage media
Simultaneous erasure of multiple files, along with scheduled process automation
Wipes unused storage space for optimizing performance of hard drives
Erases data as per 17 international standards of erasure like U.S. DOD, NATO, etc.
Generates tamper proof certificate of erasure to facilitate regulatory compliance
BitRaser for File is an advanced file erasure software to sanitize PCs, laptops, servers, hard drives and other external storage devices. It can securely erase multiple files simultaneously by using 17 international data erasure algorithms such as DoD, NATO, and Gutmann, etc. The software generates a tamper-proof certificate of erasure to help meet regulatory compliance with data protection mandates such as GDPR, SOX, GLB, HIPAA, ISO27001, EU-GDPR, and PCI-DSS.
Caractéristiques
Erases files, folders, and partitions on a hard drive
The software securely erases files, folders, and partitions containing information such as internet activities, application/system traces, and unused space from selected drives. It performs secure data erasure on internal and external hard drives, SSDs, USB drives, & SD cards.
Secure data erasure as per international standards
BitRaser for File is the only file erasure software that supports 17 International data erasure standards. A few of them are U.S. DoD (3/7 pass), NATO, Gutmann (35 pass), British HMG IS5. You can also choose a verification method—Total or Random—to ensure 100% data erasure.
Generates tamper-proof certificate of erasure
Files sanitized with the software cannot be recovered by using any data recovery technique including forensic tools. It generates tamper-proof certificate of erasure to help ITADs, R2s, and IT managed service providers comply with regulatory mandates such as GDPR, SOX, GLB, HIPAA, etc.
Wipes unused disk space
Unused space on a drive may contain previously deleted sensitive files that might be recovered by using data recovery software. BitRaser for File erases the unused space on system drives and external storage devices to ensure that the media is fully sanitized, with zero risk of data leakage.
Schedules automated file erasure tasks
The software allows to automate the file erasure task, which saves time and resoucrs and adds to convenience. The user simply needs to select the files along with the erasure algorithm, and the software erases them automatically as per the defined schedule.
Configuration requise
Windows - Minimale
Processor: Pentium Class
RAM: Minimum 256 MB
Hard Disk: 40 MB of Free Space
Platform: Supports Windows 10, 8.1, 8, 7, Vista, XP & Server 2012, 2008 & 2003
configuration requise
Windows - Minimale
Processor: Pentium Class
RAM: Minimum 256 MB
Hard Disk: 40 MB of Free Space
Platform: Supports Windows 10, 8.1, 8, 7, Vista, XP & Server 2012, 2008 & 2003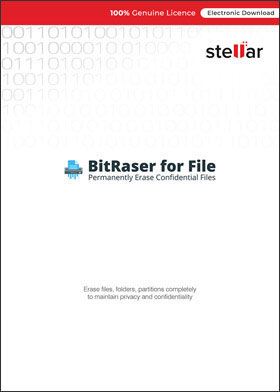 Langue:

anglais

Catégorie:

Plateforme:

Vista Win XP Win 7 32/64 bits Win 8 32/64 bits Win 8.1 32/64 bits Win 10 32/64 bits Win Server 2003 Win Server 2008

Date de sortie:

16/01/2019

Editeur